Out Of Stock
Vaporesso Target200 Full Kit
جهاز فابريسو تارجيت 200 الاصدار الجديد-Vaporesso TARGET 200 Kit
يأتي جهاز TARGET 200 من سلسلة VAPORESSO TARGET الجديدة. بفضل إطاره الفريد الذي يشبه القفص ، جهاز TARGET 200 يعمل بمجموعة البطاريات المزدوجة عدد 2 بطارية بسعة ( 18650 ) ، مما يجعلها تدوم لمدة كافية لتحملها معك للخارج بينما تكون مناسبة أيضًا بشكل كافٍ للمناسبات الداخلية ، كما ان مقاومته للماء تجعله أكثر متانة وراحة.
أيضا التانك للجهاز والمسمى iTank المطور حديثًا ، تسمح سعته الكبيرة و بحجم رائع بأن يسمتد استخدامك له لفترة أطول ويوفر للمستخدمين تجربة vaping أكثر إرضاءً.
كما يوفر نظام Turbo Airflow المبتكر مع كويل Gti الجديد تمامًا تدفق هواء أكثر سلاسة وحتى تسخينًا لتبخير السائل بالكامل جنبا إلى جنب مع الشريحة المطورة AXON CHIP ، فإنه يضمن سحب أكبر بكثير ونكهة أكثر كثافة.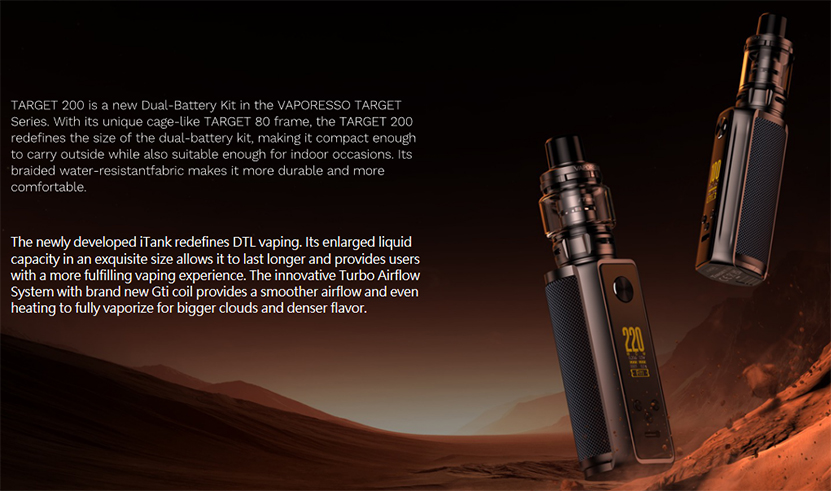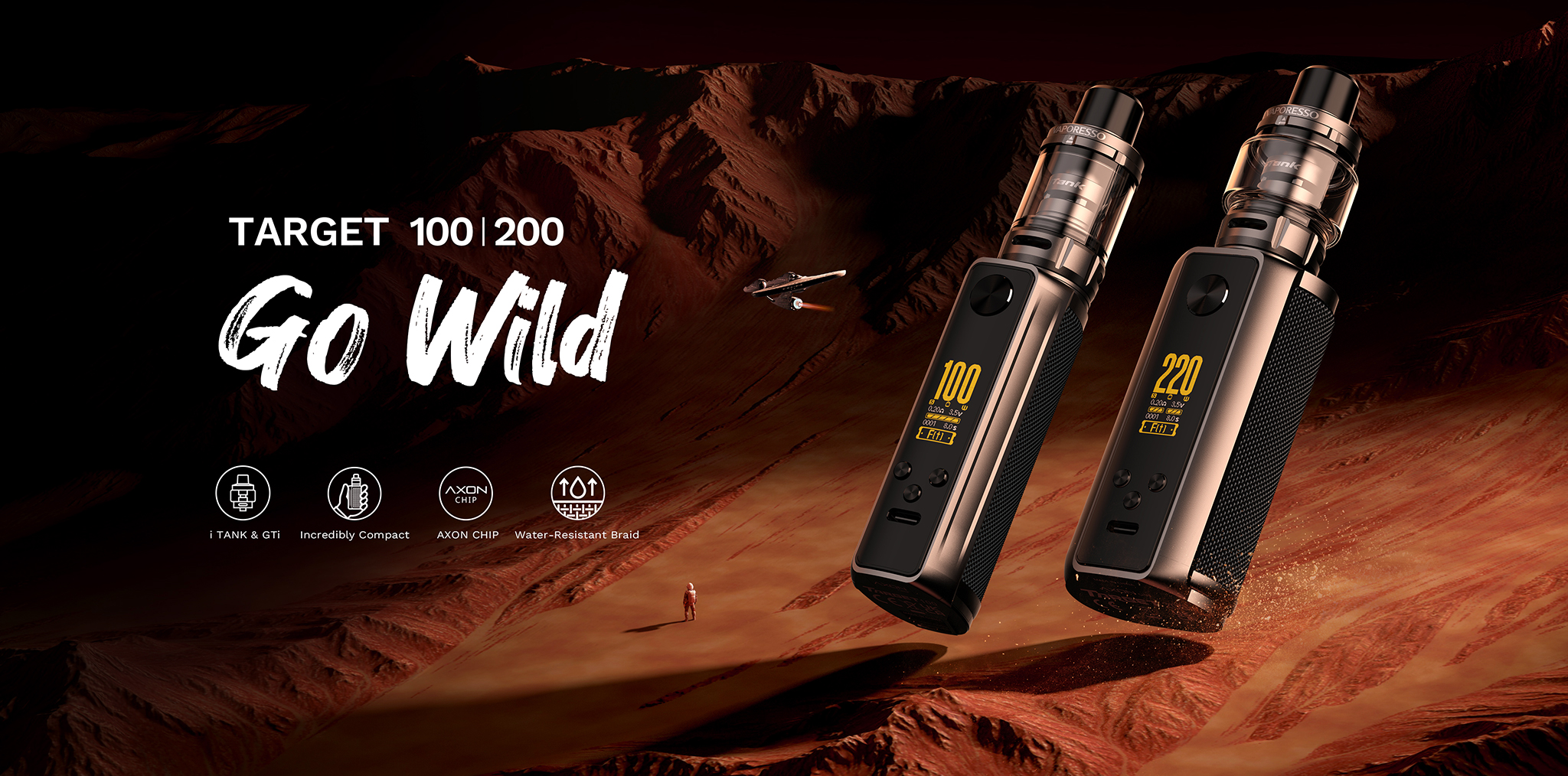 يحتاج الجهاز لعدد 2 بطارية × 18650
(غير مدرجة مع الجهاز)
انواع الكويلات :
GTi 0.2Ω ميش (60-75 واط)
GTi 0.4Ω ميش (50-60W)
تفاصيل الجهاز :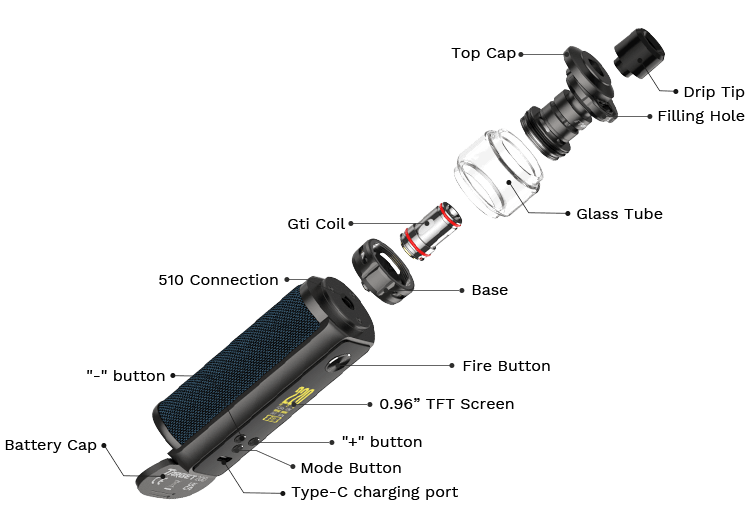 مواصفات الجهاز :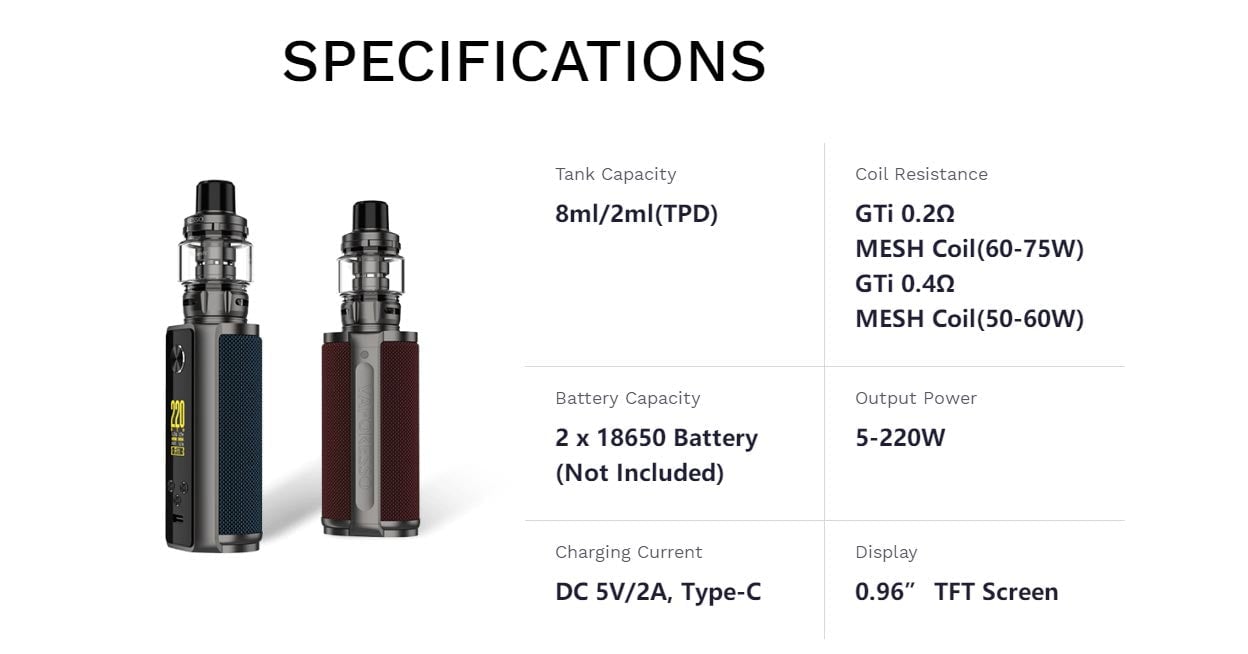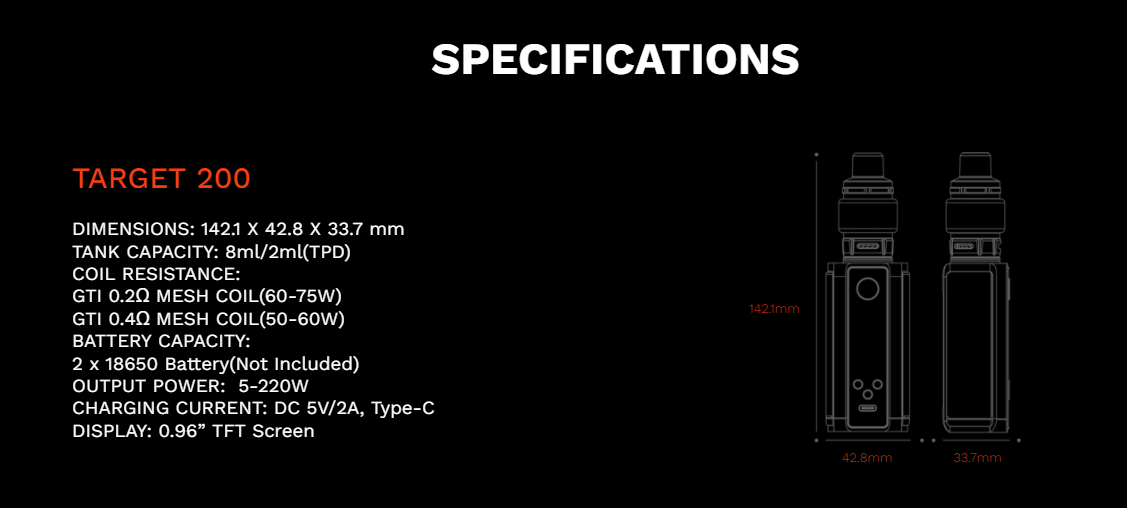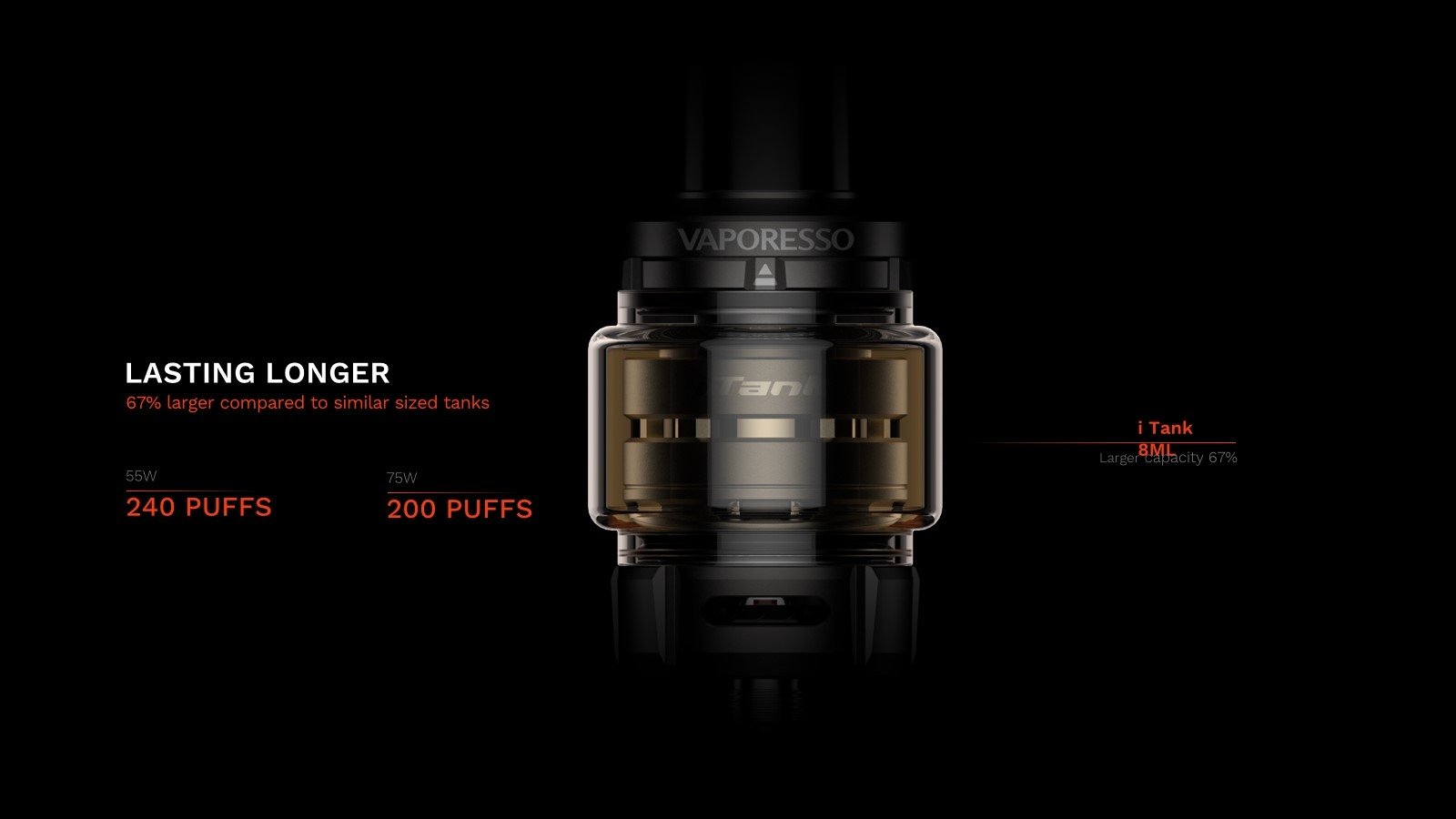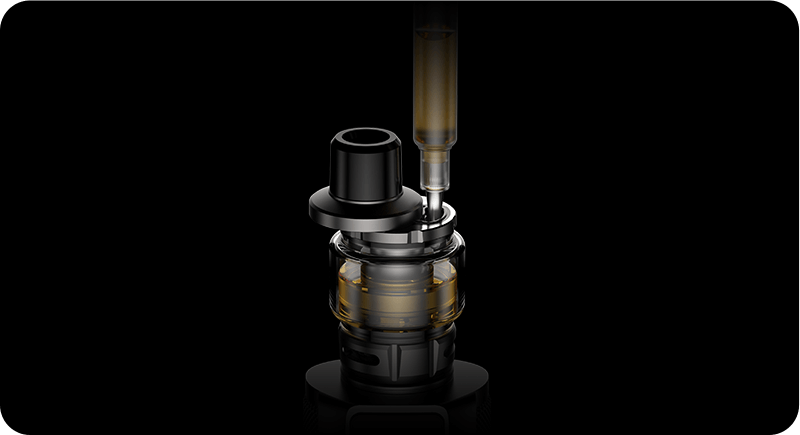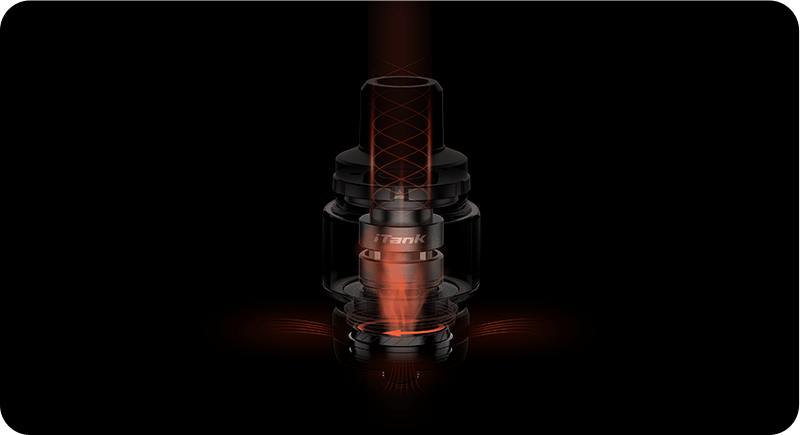 المحتويات :

2Discover the Vaporesso Target 200 Starter Kit, featuring a 5-200W output range, various operational modes, and utilizes a pair of high-amp 18650 batteries. Constructed from durable zinc-alloy, the chassis of the Vaporesso Target 200 Kit is impervious to light falls and drops, protecting the advanced AXON chipset inside. Blending together metal and woven mesh, the exterior of the Target 200 Kit is visually striking and presents an easy to grip surface, making it enjoyable to look at and hold. Loading two batteries at the bottom hinged battery door, the Target 200 Starter Kit can deliver up to 200W of output, making this starter kit compatible with nearly any atomizer available on the market. Naturally paired with the Vaporesso iTank, the Target 200 utilizes coils from the GTi coil series, and is great for delivering delicious flavor and vapor from your favorite eJuice.
Vaporesso TARGET 200 Starter Kit Features:
Dimensions - 143.3mm by 43mm by 34mm
Dual High-Amp 18650 Battery - Not Included
Wattage Output Range: 5-220W
VW Mode
Pulse Mode
F(t) Mode
Zinc-Alloy Chassis Construction
Intuitive Firing Button
0.96" TFT Color Screen
Two Adjustment Button
Mode/Confirm Button
Button Hinged Battery Door
Short Circuit Protection
Burn Protection
No Load Protection
Overtime Protection
Low Resistance Protection
Low Power Protection
Overcharge Protection
ESD Circuit Protection
Pass Through Protection
Threaded 510 Connection
Available in
Vaporesso iTank Features:
22mm Base Diameter
30mm Widest Diameter
8mL Bubble Glass Capacity
Swivel Top Fill System - Single Fill Port
Vaporesso GTi Coil Series
0.2ohm GTi Mesh Coils - rated for 60-75W
0.4ohm GTi Mesh Coils - rated for 50-60W
Press-Fit Coil Installation
Triple Slotted Bottom Airflow Control Ring
Threaded 510 Connection
Includes:
1 Vaporesso Target 200 Mod
1 Vaporesso iTank
1 0.2ohm GTi Mesh Coil
1 0.4ohm GTi Mesh Coil
1 Extra Glass Tube
3 O-Ring
1 Battery Adapter Sleeve
1 Type-C Cable
1 User Manual
1 Warranty Card
Please have a great understanding and technical knowledge on how to use this product in order to properly use it.
We highly recommend using an external battery charger for 18650 battery mods, as it helps with balanced charging and prolongs the life of the battery and mod, such as from worn out microUSB port. Never use damaged or improperly wrapped batteries with this device. We recommend all 18650/20700/21700 battery mods to use matching batteries with similar brand, model, and battery state at all times.
In order to use temperature control feature, it requires use of nickel, titanium, or stainless steel coils.
Note: There is always an inherent risk when using any rechargeable batteries at any time and under any circumstances. ElementVape.com and any of ElementVape.com's parent and subsidiary companies are not held responsible for any damage for any modification of the batteries, chargers, devices and other products that we carry in any form or shape, this is including pack making.
ElementVape.com and any or all of ElementVape.com's parent and subsidiary companies will not be held responsible or liable for any injury, damage, or defect, permanent or temporary that may be caused by the improper use of a Li-ion (Lithium-ion), LiPo (Lithium-ion Polymer) and any rechargeable battery/batteries as well as chargers. Please have a greater understanding of the batteries/chargers you are using and how to care for them properly.
When working with Li-ion (Lithium-ion), LiPo (Lithium-ion Polymer) and any rechargeable cells, please be cautious and carefully use as they are very sensitive to charging characteristics and may explode or burn if mishandled. Please make sure that you have great knowledge on all rechargeable batteries before you use them. Always charge batteries at the clean and fire-proof surface. Never leave charging batteries unattended. If you see that there are visible damages on the batteries, please do not use. Always keep, store and transport the rechargeable cells in a safe, non-conductive container in a controlled environment
Stock:

Out Of Stock

Model:

فل كيت وبود مود